The aim of the English department at Fairley House School is to work with each individual child to help them overcome their difficulties and build their skills and confidence in English.
The ability to read and write is of key importance for all our students to fulfil their potential in their educational, social and intra-personal development, and later, in their chosen careers. Our tailored strategies, based on our vast experience in this field, helps bring about this success.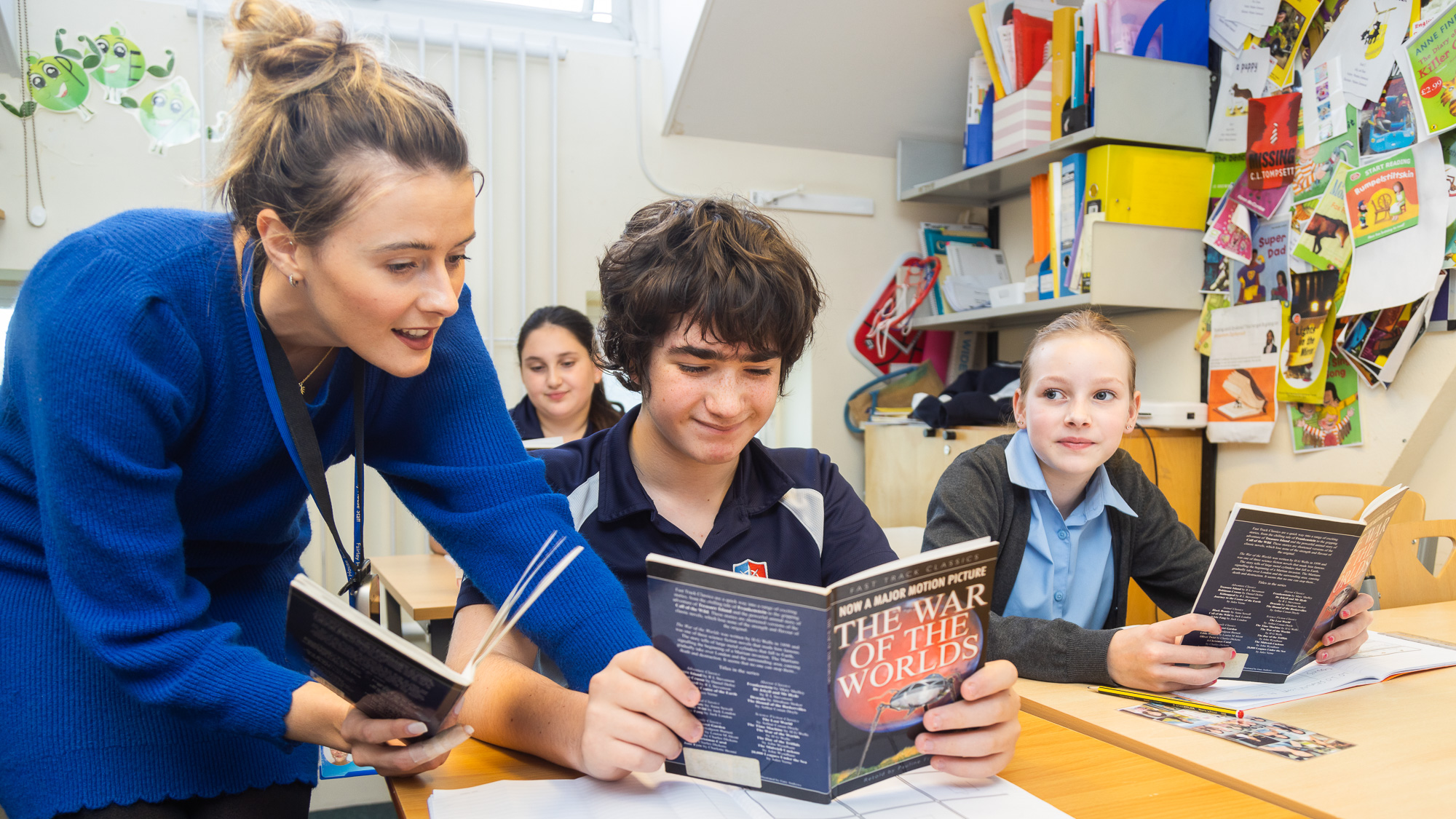 Our teaching is based on the principles of the Orton Gillingham approach, which continues to be a highly regarded approach to teaching students with dyslexia. It targets areas of need within individual students through a teaching program that is explicit, multisensory, structured, sequential and cumulative.
English teachers have training in and use strategies from the evidence based instructional techniques and programs such as: Reciprocal Reading, The Write Stuff, Talk for Writing, Morph Mastery and Shape and Colour Coding to develop literacy skills in line with expectations set out in the National Curriculum.
English lessons are split into Reading, Word Study and Writing, but lesson content often overlaps and reinforces what is taught.
English naturally takes up a considerable share of the timetable and is approached with much inventiveness and confidence boosting.
THE GOOD SCHOOLS GUIDE
Word Study
These memorable multisensory sessions go beyond teaching students to read and spell words through phonics and spelling rules alone. There is an additional emphasis on many other aspects of words, particularly word meanings (semantics), word structure (morphology), grammatical use of words and word origins (etymology). Students are constantly encouraged to make connections between words and to use their existing knowledge, in combination with higher level thinking skills, to deduce the meanings of unfamiliar words when reading and to make informed choices when spelling. 
Writing
Writing can be a very challenging subject for dyslexic and dyspraxic children, with so many skills needed: the generating and sequencing of ideas, writing legibly at length, using interesting language, applying correct punctuation and recalling the correct spelling of words. Writing lessons at Fairley House are taught through a transdisciplinary approach, by specialist teachers working with Speech and Language Therapists or Occupational Therapists.
Writing lessons ensure that the children understand grammatical structures and can use punctuation in an apt manner. We then establish the features at word, sentence and whole text level that will engage the audience and achieve the purpose of the written piece. Across year groups we cover many forms of writing, from narratives and poetry to persuasive speeches and blogs.
Planning and organisation are hugely important, and students are provided with strategies, visuals and tools to organise their ideas before they write.
Reading
At the early stages of their learning, students are taught to read using a phonic-based approach, in conjunction with learning, to recognise sight words and developing reading strategies such as using context. Higher up the school, students read a range of accessible, yet challenging, texts to explore language and structure. Through their study of both fiction and non-fiction, their vocabulary flourishes and they understand how writers effectively communicate their views by constructing their work in a very conscious fashion. 
Our students locate, explain, analyse and evaluate written text whilst embedding quotations as evidence. Additionally, the students build up a bank of literary terminology to identify the writers' methods. We find their own writing is then enhanced by the techniques they have learnt from studying these different authors and genres.